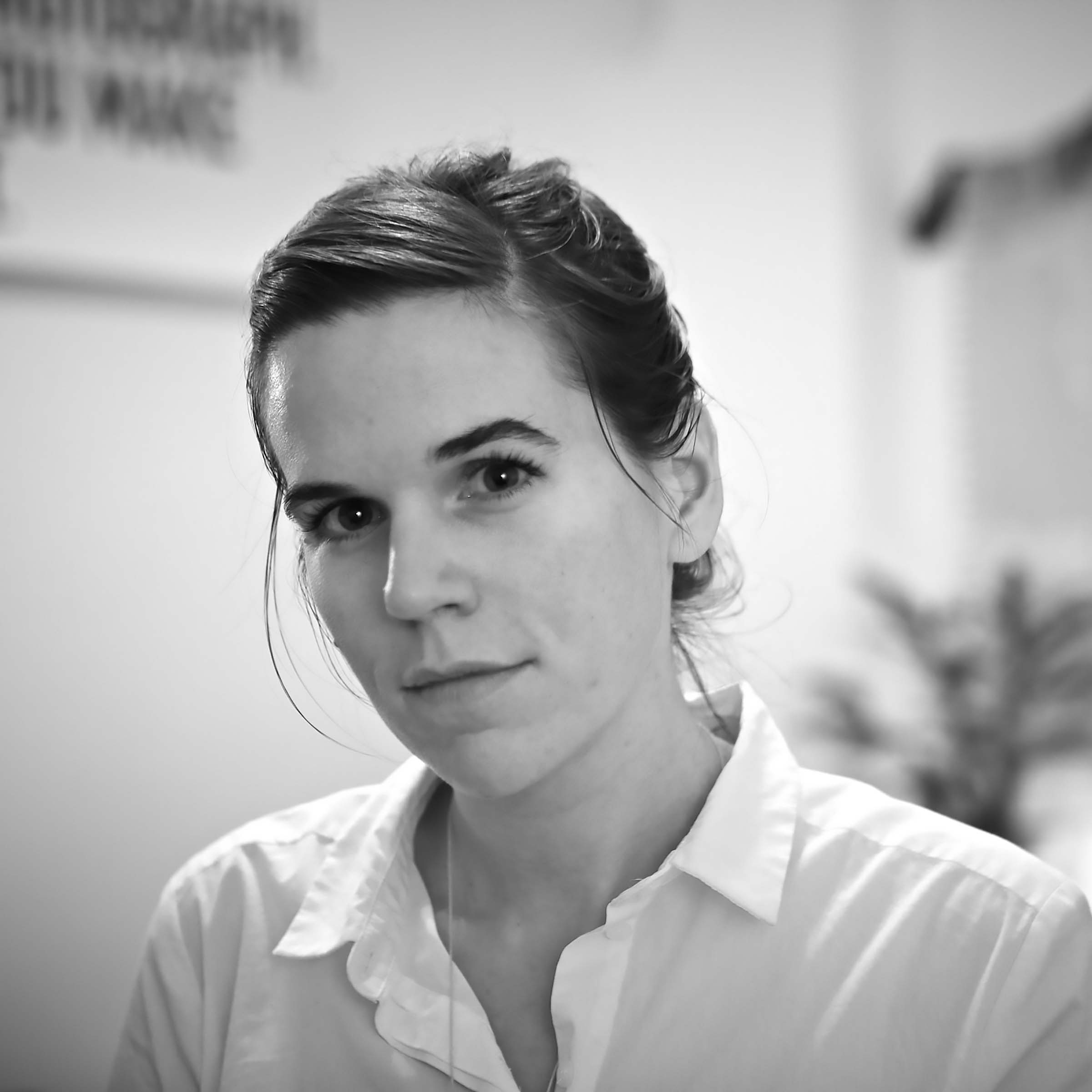 Una Rebić

|

b. 1986, Rijeka

|
based in Slovenia
una[at]unas.work

I am a multidisciplinary creative practitioner formally educated in design and art. 
My art is concerned with topics of time and transformation. I am exploring ways of communication between the social, physical, mental and spiritual realms and their interconnectedness. I rely on different media and ways of expression: photography, design, video, intervention, action, process based work and experimentation.
In the process of design and illustration, I channel my aesthetics while coming up with strong concepts that I develop and deliver as products or services to my clients. These I mainly do commercially.
I photograph to express and document mine and other people's lives and work, both as a personal interest and by commission.
Sharing my skills and knowledge is very important to me. Through designed formats I educate children and young people with the intention to contribute to new experiences in their formative years. When working with adults, my wish is to encourage them to never stop learning and evolving.
In my practice, I work both on personal and collaborative projects internationally. My partner Metod and I also form an artistic duo mu.

Education
2014–2016 MA in Intermedia, Media Arts and Practices, Academy of  Applied Arts, University of Rijeka, Croatia
2005–2009 BA in Industrial Design, Faculty of Design and Arts,IUAV University of Venice, Italy 
Selected exhibitions and festivals
2020 FLOWALKING ~ SOČA, A 156km 6-day physical endurance drawing by walking in space over time. In collaboration with Metod Blejec |  Cultural hub Carinarnica, Nova Gorica, Slovenia
2018 TRANSPLANTING, film. In collaboration with Metod Blejec. SINGAPORE ECO FILM FESTIVAL, 1.–4.11.2018 | Art Science Museum, Singapore
2018 JOURNEY IS PRACTICE IS JOURNEY IS …, An exhibition exploring on 11 participatory events. In collaboration with Dafne Louzioti, Scott Schwager, Taja Topolovec and Metod Blejec. Match Gallery, Museum and Galleries of Ljubljana | 10.4.–4.5.2018 | Ljubljana, Slovenia
2017 PARK|PLAY|GROUND, 6 day intervention. In collaboration with Marija Kajapi and Dunja Tisma and in conjunction with Bencic Youth Council . FESTIVAL TOBOGAN,  3.–8.7.2017 | Bencic Complex, Rijeka, Croatia
2017 BLACK BOX, experimental video. In collaboration with Dolores Kovacic. 26th CROATIAN FILM DAYS,  16-20.6.2017 | Cinema Tuskanac, Zagreb, Croatia
2016 MA SELF, three channel video installation. MFRU, 22nd International Computer Arts Festival, 9.–16.11.2016 | Maribor, Slovenia
2016 HOUSEWORK, mixed media installation, commissioned work. In collaboration with Nikoleta Markovic. FROM CITIZENS TO THEIR CITY, 26.–30.10.2016 | Kamov Studio, Rijeka, Croatia
2016 UNTITLED FRONTIERS, pt. I, multi-channel audio installation with video. #JUHA collective. STORIES FROM THE EDGE, 22.7.–28.8.2016 | Kunsthaus Graz, Graz, Austria
2015 BLACK BOX, audio & video installation. In collaboration with Dolores Kovacic. CITY AT A SECOND GLANCE RIJEKA/SISAK 2015, 15.–17.12.2015 | Institute for Contemporary Art, Zagreb, Croatia
2015 UNTITLED FRONTIERS, pt. III, three channel installation with video & live video stream, GRANDHOTEL COSMOPOLIS, 12.12.2015 | Höhmannhaus, Augsburg, Germany
2015 UNTITLED FRONTIERS, pt. II, multi-channel audio installation with video & live video stream. VIDEONOTTE #3, 12.12.2015 | Atelier Home Gallery, Trieste, Italy
2015 SEED, autonomous object. PIXXELPOINT 2015, Media Art Festival, 27.11.–4.12.2015 | The Municipal Gallery of Nova Gorica, Nova Gorica, Slovenia
2015 UNTITLED FRONTIERS, pt. I, multi-channel audio installation with video. BoB (Balancing on the Border) intensive programme, 16.-26.12.2015 | A TRIBUTE TO VISION, Kinemax, Gorizia, Italy
2015 GROWTH; ACCAUSAL PARALLELISM, videos with sound. INTERFACE, 12.–19.11.2015 |ex Bernardi, Rijeka, Croatia
2015 SNCMSC HAPPENING, telematic mosaic happening via Skype. SPECULUM ARTIUM, International Festival of New Media Culture, 15.–17.10.2015 | Nova galerija DDT, Trbovlje, Slovenia
2015 IN THE LIGHT OF THE DARK – DUBROVNIK, multisensory installation & site-specific multisensory walks. In collaboration with Dolores Kovacic. IN THE HEART OF THE SEASON – THE CITY IS DEAD, LONG LIVE THE CITY,  20.–25.9.2015 | Galerija Otok & city centre, Dubrovnik, Croatia 
2015 MEMORY ENCODED, video installation with sound. ACADEMY OF APPLIED ARTS IN RIJEKA – GRADUATE STUDENTS EXHIBITION | Galerija Kortil, Rijeka, Croatia
2015 BLACK BOX, audio & video installation. FESTIVAL ŽELJEZARA, 1-7.6. | ex Steel Factory, Sisak, Croatia
2015 BLACK BOX, audio & video installation + LIVE THE CITY IN THE LIGHT OF THE DARK, site-specific audio guided walks. In collaboration with Dolores Kovacic. CITY AT A SECOND GLANCE, 18.5.–10.6.2015 | Museum of Modern and Contemporary Art & city centre, Rijeka, Croatia
2014 PARK|PLAY|GROUND, 3 day intervention. In collaboration with Marija Kajapi and Dunja Tisma. SPAJALICA / COPULA, Series of Art Interventions in Public Sphere, 8.4.–31.5.2014 | Rijeka, Croatia
Published articles and essays
2018 A JOURNEY TOWARDS SLOWING DOWN TIME, essay.  JOURNEY IS PRACTICE IS JOURNEY IS …, publication. National and University Library of Slovenia, November 2018, p 14-16
2018 LAND ART AS A PLATFORM FOR INTERACTION, article for Arts Everywhere. Co-written with Metod Blejec. July 2018. http://artseverywhere.ca/2018/07/27/land-art/
2017 EXPERIENCING THE OTHER, essay excerpt. STORIES FROM THE EDGE, publication. Trieste, August 2016
Lectures, workshops and talks
2020 LAND ART IN THE PARK, land art workshop. In collaboration with Metod Blejec and My Place Under the Sun, 3.10.2020 & 31.10.2020 | Park Mlaka, Rijeka, Croatia
2018 JOURNEY IS PRACTICE IS JOURNEY IS …, artist talk and presentation of the publication. STOW, Museum and Galleries of Ljubljana , 7.12.2018 | Ljubljana, Slovenia
2018 EXPERIMENTING IN THE ENVIRONMENT, artist talk and workshop. PANNAFOTO INSTITUTE, 26.–27.10.2018 | Jakarta, Indonesia
2017 LET'S FLAG, design workshop. DESIGN COURSEBOOK, 25.11.2017 | Croatian design association, Zagreb, Croatia
2017 LET'S FLAG, design workshop. MOZILLA FESTIVAL 2017, 27.–29.10.2017 | Ravensbourne College, London, UK
2017 VMB+PARK|PLAY|GROUND, summer school for public space intervention. In collaboration with Marija Kajapi, Dunja Tisma & Bencic Youth Council. 3-8.7.2017 | Bencic Complex, Rijeka, Croatia
2017 LAND ART ON THE BEACH, land art workshop. In collaboration with Metod Blejec and Benčić Youth Council. 6.–14.5.2017 | Studio Kamov & Srebrena beach, Rijeka, Croatia
2017 THE ART OF SEEING SIDEWAYS, assistant in an intense 4 day critical and experimental workshop. 16.–19.1.2017. | Nanyang Academy of Fine Arts (NAFA), Singapore
2016 PRODUCTION CENTERS: ARTS AND COMMUNITY DEVELOPMENT, conference. 5.11.2016 | Circolo, Pula. Croatia 
2016 CONVERSATION ABOUT HOUSEWORK, artist talk with public. 29.10.2016. | Kamov Studio. Rijeka, Croatia
2015 BLACK BOX, presentation of the project. 15.12.2015 | Institute for Contemporary Art, Zagreb, Croatia
Grants and awards
2017 BEST ARTIST OF 2017,  Benčić Youth Council's award for the workshop pedagogy and work COLOUR POSITIVE, Rijeka, Croatia
2016 DEAN'S AWARD,  Dean's Award for the work BLACK BOX  in the field of New Media | Academy of Applied Arts in Rijeka. Croatia
2015 ARTIST-IN-RESIDENCE FELLOWSHIP, july & september 2015 | Art Workshop Lazareti, Dubrovnik, Croatia
Relevant work
2021 RENDERSPACE, digital designer | Ljubljana, Slovenia
2017–2020 YOGA IN DAILY LIFE, certified yoga instructor | Ljubljana, Slovenia
2007–2012 TRASH-DANCE, art direction and promotion of series of electronic music events | Northern Italy